What is cellulite?
Cellulite starts underneath the skin. It is caused by thickened fibrous bands pulling the skin inward causing a depression or dimple. It is your biology and cannot be reversed with diet, exercise or weight training.
Women are significantly more affected than men. Men rarely get cellulite. It can start in puberty and increase as you get older. Estrogen most likely plays a role in the development of cellulite.
Cellulite versus laxity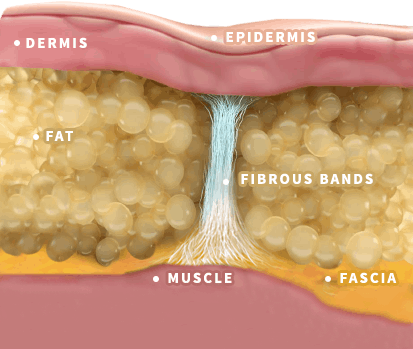 QWO is intended for cellulite not the waviness caused by skin laxity. As we age our skin loses elasticity and thins. In certain areas like the buttock and top of the thighs, gravity will pull the skin down giving that area an irregular appearance. This can look like the dimples of cellulite. To tell the difference gently pull the skin towards your head. If the waviness improves or goes away, it is laxity and not true cellulite.
Most women will have cellulite in their lifetime–about 9 out of 10 women, in fact.
That means your tough workouts and healthy eating habits are fantastic for your fitness and overall wellness—but won't do much to reduce your cellulite.
If you really want to reduce cellulite, you need to understand what's behind it.
Over time, skin thins.
Fat cells enlarge and push against the skin.
      The fibrous bands under the skin thicken and cause tension and the signature dimpling on your butt.